Dynamis Byzantine Ensemble
Origins
Dynamis Byzantine Ensemble is the first initiative of the English Hyphos Project, an initiative founded by Samuel Herron with the goal of producing high quality English language translations, musical settings, and recordings of Byzantine Chant.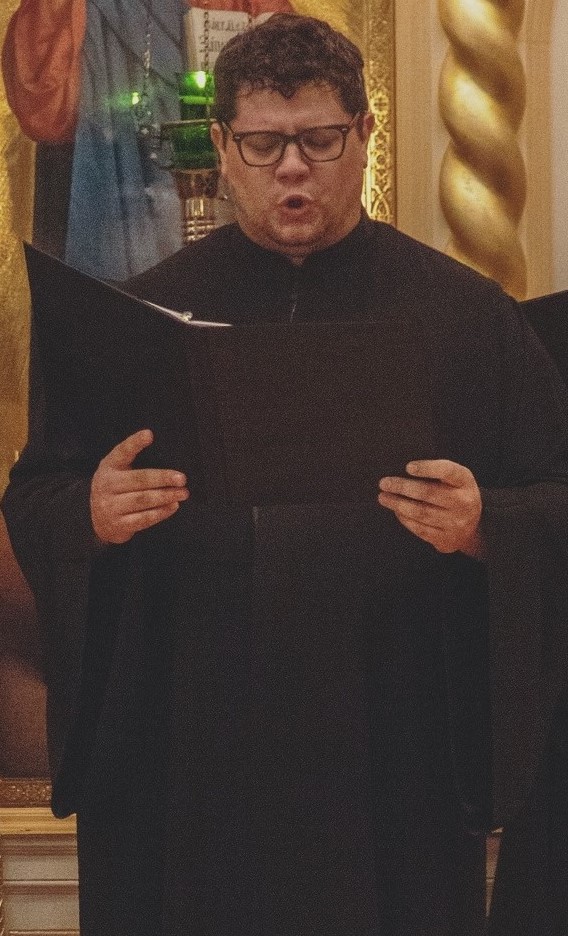 Samuel Herron began studying Byzantine Music under Leonidas Kotsiris in 2002. In 2006, he spent three months studying under Lycourgos Angelopoulos, Archon Protopsaltis of the Archdiocese of Constantinople, Protopsaltis of Hagia Eirini in Athens, and director of the Greek Byzantine Choir, which Samuel performed with as an isokrates while living in Athens. From 2015-2017, he studied under Fr. Romanos Karanos while attending Hellenic College.
Samuel has served as the Lampadarios of Holy Trinity Greek Orthodox Church in Nashville, TN from 2007-2009, as Protopsaltis of Annunciation Greek Orthodox Church in Chattanooga, TN from 2010 to 2015, as Protopsaltis of Annunciation Greek Orthodox Cathedral of the New England Metropolis in Boston until May 2017, as Ieropsaltis for Holy Trinity Greek Orthodox Cathedral in Phoenix, AZ until September 2018, and currently serves as Protopsaltis of Assumption Greek Orthodox Church in Scottsdale, AZ. Samuel received his Certificate in Byzantine Music with a grade of Excellent in 2015 from Holy Cross Greek Orthodox School of Theology. He has performed with the choir of Protopsaltis George Theodoridis, the Psaltikon Ensemble directed by Dr. Spyridon Antonopoulos, the Archdiocesan Byzantine Choir directed by Demetrios Kehagias, Capella Romana directed by John Michael Boyer, and the Holy Cross St. Romanos the Melodist Byzantine Choir directed by Fr. Romanos Karanos.
Gabriel Cremeens, Assistant Director
Gabriel has been active in the field of Byzantine Music since 2011, when he first began composing under the direction of Fr. Romanos Karanos, PhD. Gabriel holds two degrees from Hellenic College/Holy Cross Greek Orthodox School of Theology in Brookline, MA: a Bachelor's in Theology (as valedictorian of the class of 2014), and a Certificate in Byzantine Music (with a grade of "perfect"). In addition to his studies at Holy Cross, Gabriel also spent a year and a half in Athens, Greece, where he took private lessons in Byzantine chant performance, musicology, and composition from masters of the art, including George Hatzichronoglou, Archon Hymnodist of the Great Church of Christ, and Dr. Ioannis Arvanitis, one of the foremost musicologists and composers of Byzantine Music today. During his time in Greece, he also sang with the choir "Maistores of the Psaltic Art," under the direction of Dr. Achilleas Chaldaiakes. Gabriel currently works full-time as the Music Director and Pastoral Assistant at St. George Greek Orthodox Church in Albuquerque, NM. He also works by commission for the Greek Orthodox Archdiocese of America, AGES Initiatives, and several other Church music organizations, while collaborating with other chanters on various projects to teach, spread, and promote Byzantine Chant in English. He has taught at Holy Cross Greek Orthodox School of Theology as a Lecturer in Byzantine Music, and also at the Metropolis of Boston "St. John of Damascus" Byzantine Music School. He currently teaches several online Byzantine Chant classes for the St. Raphael School, one of the largest online Orthodox Christian schools in the United States.